SwimAtlanta Sugarloaf Evaluation Dates
2021 SwimAtlanta Sugarloaf Evaluation Dates
Thank you for your interest in SwimAtlanta - Sugarloaf. We are currently registering swimmers for our new season that begins Monday, August 16th . 
In order to be placed on one of our practice groups, it is required that swimmers be evaluated by one of our coaches. The evaluation is free and there is no obligation; each swimmer who can demonstrate all four strokes and is at least six years old is placed on a practice group based upon age and skill level. 
For your convenience, we have scheduled the following dates and times for swim team evaluations, and you can choose to attend the best day for you: 
| | |
| --- | --- |
| Monday, June 28th | 5:00pm |
| Wednesday, June 30th | 5:00pm |
| Wednesday, July 7th | 5:00pm |
| Monday,12th   | 5:00pm |
| Wednesday, July 14th | 5:00pm |
| Monday, July 19th | 5:00pm |
| Wednesday, July 21st | 5:00pm |
| Tuesday, August 3rd | 5:00pm |
| Wednesday, August 11th | 5:00pm |
| Saturday, August 14th | 12:00pm |
** Evaluations require swimmers to swim one lap (25 yards) of each stroke and are held at SwimAtlanta off of Sugarloaf Parkway in the Publix Kid's Village Shopping Center in between Cruse and Old Norcross roads. 4850 Sugarloaf Pkwy Sute 702 Lawrencville, GA 30044
 **It is encouraged that you attend the short evaluation before our season begins August 16th, but if you cannot make the scheduled evaluation dates or times, please contact Scot Davis for alternative times or questions at [email protected] or (678) 442-7946 
---
2021 LC Senior State Championship Updates @ UGA
Meet Files
Schedule
Note: In consultation with the Senior Committee, the Meet Host has decided to combine Men and Women into a single Prelim session. Adjusted start times are as follows.
Friday, July 23rd

Session 1 (Prelims)

Warmup:7:00 am -- Start: 8:30 am

Session 2 (Finals) 

Warmup: 5:00 pm -- Start: 6:00 pm
Saturday, July 24th

Session 3 (Prelims) 

Warmup:7:00 am -- Start: 8:30 am

Session 4 (Finals) 

Warmup: 5:00 pm -- Start: 6:00 pm
Sunday, July 25th

Session 5 (Prelims) 

Warmup:7:00 am -- Start: 8:30 am 

Session 9 (Finals) 

Warmup: 4:30 pm -- Start: 5:30 pm​
Logistics
There will be no spectators for this meet. Parents who wish to watch are encouraged to serve as timers. To volunteer, please visit our Signup Genius:

Coaches, swimmers, and officials will enter through the spectator lobby for all sessions (including warm-up on Thursday).

Parking will be in the UGA East Campus Deck. For Friday prelims, visitors may pay to park using the Park Mobile App, or by paying at one of the self-serve kiosks. On Friday after 4:00pm and all day Saturday and Sunday, parking is free. 
 
Live Stream
---
Georgia 2021 14&under LC State Championships and Junior Olympics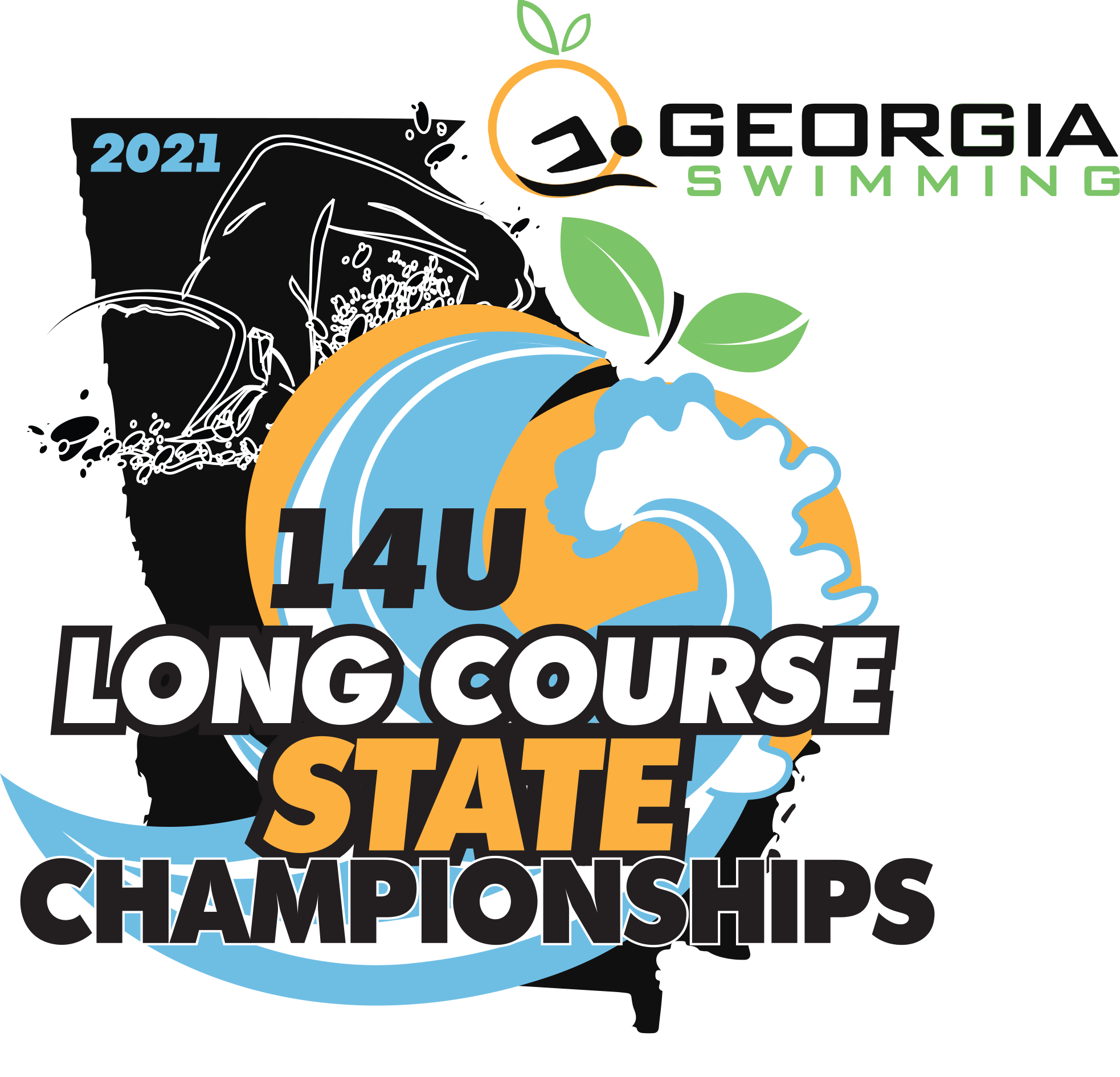 The 2021 Age Group State Champs will be held Thursday July 15 - Sunday July 18 at Georgia Tech. Over 700 athletes from over 50 swim clubs will attend this premier age group competition for our LSC. The meet will feature distance events Thursday afternoon, prelims/finals for 11-14 yr olds Friday - Sunday, and timed final events for 10U Friday-Sunday as well as the first ever long course Junior Olympics Meet held concurrently with the 10U state events! 
In order to meet remaining COVID-19 guidelines at Tech spectators will not be admitted and all volunteer slots have been filled. 
However, the meet will be broadcast on a live feed:  https://youtube.com/playlist?list=PL8oHTcJAE75gaKa6tUn2WoP_rSpYZDqJ0 (SwimAtlanta is not running the LiveStream for this meet)
There will be FREE PARKING for coaches, officials and parents in the deck next to the pool.  However entry will be limited to the time period 45 mins before warm-up starts until just after the meet starts.  
---
14&under Age Group State LiveStream
---
SwimAtlanta Last Chance Meet Updates @ Cumming Aquatic Center
Spectators are welcome in the building.  Parents are asked to stay upstairs in the stands unless volunteering.  Swimmers in the 400 free, 400  IM, and 800 Free are asked to provide their own timer.  Swimmers in the 800 free will need a counter also.
Warm-Up & Start Times:
Saturday warm-up 10:00-10:50am / meet start 11:00am
Sunday warm-up 8:00-8:50am / meet start 9:00am
Timeline & Heat Sheets:
---
Tech Suit & SwimAtlanta Apparel Sale
Everything below is IN STOCK and SHIPS IMMEDIATELY!
Tech Suit Sale:
15% off Mizuno - Discount Code: mizuno15
25% off Speedo - Discount Code: speedo25
30% off TYR - Discount Code: tyr30
SWIM ATLANTA 2021 OLYMPICS T-SHIRT
This awesome new design is in stock and ready to ship out immediately! 
It's printed on an extra soft, premium tri-blend solid Navy NEXT LEVELT-Shirt. Youth and Adult sizes available!
We've printed this shirt in a very limited run. It's available online only, and we will not be making more once they're sold out! 
---
2021 Gwinnett County Championship LiveStream
---
2021 ASA Summer League Championship Livestreams