2020 Ralph Crocker Classic Meet Updates, Updated Warm-Up Times, & Heat Sheets
Ralph Crocker Classic is a prelim/final meet for the 13& older swimmers.  Top 16 13-14 and top 24 15&older swimmers will come back to finals.  12&under events are time final.  Folding chairs are not allowed in the upstairs spectator area. 
Below is the start times for the sessions this weekend (this is a modification from the meet info), all warm ups will be OPEN. Reminder Auburn is in the Central Time Zone:
Friday 
Warm ups 4:00pm meet starts at 5:10 pm  (Pool will open for warmups as soon as the college teams have concluded warming down.)
Saturday
Prelims Warm up 7:30am.  Meet Starts 9:00am
12 and under session:

 Warm up NOT BEFORE 12:30 pm. Meet Starts not before 1:30 pm

Finals Warm up 4:30pm. Meet starts 5:30 pm
Sunday
Prelims Warm up 7:30am.  Meet Starts 9:00am.
12 and under session 

Warm up NOT BEFORE 1:30pm. Meet starts NOT BEFORE 2:30 pm.

Finals Warm up 4:30pm. Meet Starts 5:30 pm
Heat Sheets:
---
SwimAtlanta Wins 2019 Junior National Championship East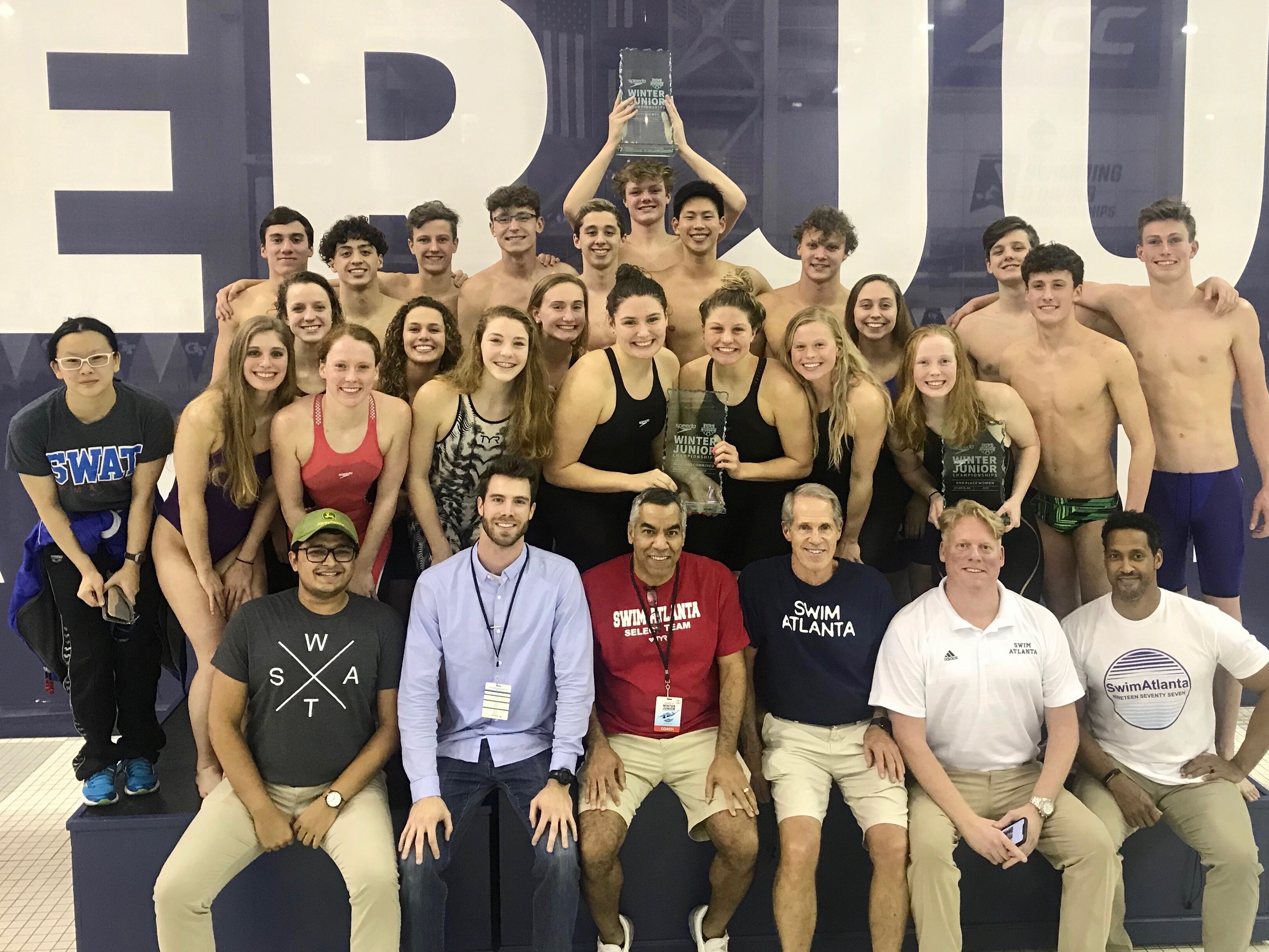 SwimAtlanta concluded the Speedo Junior National Championships East meet on top of the leaderboard in the combined team standings with 684 points. SWAT's men's team finished in first place while the women's team finished in second place. Thirty-nine SwimAtlanta athletes participated in the four-day meet that was held at the Georgia Tech Campus Recreation Center.
Jake Magahey was recognized as Male Swimmer of the Meet with two first-place finishes, three second-place finishes, and one third-place finish.
Junior National Champions include the following swimmers: 
Abigail McCulloh - 500 Free, 1650 Free
Jake Magahey - 500 Free, 1650 Free
Jack Aikins - 50 Free
Men's 200 Free Relay - Jake Magahey, Jack Aikins, Connor Hinkes, TJ Pittenger 
Men's 400 Free Relay - Jack Aikins, Jake Magahey, TJ Pittenger, Sebastien Sergile
Other swimmers finishing in the the top sixteen and scoring points in the team effort were Shwan Ahn, Lily Burke, Tommy Eaton, Adeline Farrington, Alex Gonzalez, Abby Grottle, Caroline Irwin, Annie Jardina, Gigi Johnson, Nicholas Kalenik, Evan McInerny, June Phang, Ben Phifer, Rachel Saxon, Tyler Schroeder, Sebastien Sergile, Madeline Singletary, Julianna Stephens, Charlie Stout, Reagan Sweeney, Sarah-Grace Thompson, and Katie Wong.
Congratulations to the entire SwimAtlanta family on an impressive performance.
---
Winter Break Swim Team Practice Schedules
2019-2020 Winter Break Schedules  
---
Senior State Meet Updates
Final Psych Sheet
Heat Sheets Prelims and Finals (being posted on host club website)
Warm-up and Meet Format

Friday & Saturday Warm Ups 9:00am with Meet Start 10:30am.  Sunday Warm Ups 8:30am with Meet Start 10:00am. Opening times for pace and sprint lanes will be determined at the Coaches' Meeting.  UGA will be practicing on Friday and Saturday morning up until the beginning of warm-up.  The Georgia staff have asked that swimmers, coaches, and officials stay off the deck until the team is finished and out of the pool.
Men and Women will compete in separate pools for prelims.  Because of this setup, we will not alternate heats of the 400 IM and 500 Free.  They will be seeded as stated in the meet information, but will be swum in their respective pools.
The 1000 and 1650 Free are mixed events, but will be swum in separate pools.  Some heats of the 1000 may be moved to the 1650 pool after the mile is finished.  We will determine which events will swim where and whether any heats of 1000s will go to the mile pool after check-in on Saturday night.  We will provide heat sheets and timelines for planning purposes once these events are seeded.
The Senior Committee has determined that backstroke ledges cannot be used in the morning, but will be available for swimmers to use at night (this includes the 400 Medley Relays).  They will also be an option for any time trials.
There will be no ready room or walk outs at finals.  Swimmers in the top heat will be announced behind the blocks.

Parking and Logistics

Parking is available on Friday in the East Campus Deck.  The cost is $5.00 (we recommend having cash) for the entire day.  Parking on Saturday and Sunday is free.
In the interest of keeping a clear deck, swimmers are asked to set up team areas in the stands.  Swimmers may, of course, bring towels, parkas, water bottles, etc. down to the deck, but we ask that they keep bags, coolers and other bulky items in the stands. 
---
Thanksgiving Week Practice Schedules
The Saturday, November 2nd SWAT Sprint Series "Turkey Trot" warm-ups start at 3:00pm with the meet starting at 3:30pm.  
Facility Address:
SwimAtlanta - Sugarloaf 
4850 Sugarloaf Pkwy. Suite #702 
Lawrenceville, GA 30044 
---
Bill Behrens Veterans Invite Nov. 9-10 Meet Updates
Warm-Up Times: 
Saturday

SwimAtlanta - 10:15-10:40am
All Other Teams - 10:40-11:05am

Sunday

SwimAtlanta - 8:00-8:25am
All Other Teams - 8:25-8:50am
Heat Sheets:
SWAT Towel Drive for Veterans at the Bill Behrens Veterans Invite! 
Please bring your gently used or new swim or bath towels to the meet on November 9th and 10th!
All towels will be donated by SWAT to The Gateway Center, just a few miles away from Georgia Tech, which offers free showers, housing and critical social services to men, women and children experiencing homelessness. A large percentage of those served are our veterans who are helped by the Veteran's Programs at Gateway in collaboration with the U.S Department of Veterans Affairs.
Gateway Center is open 24 hours a day and helps our veterans with emergency housing, mental health services, and access to programs to help them rebuild their lives.
Learn more about Gateway Center at
http://www.gatewayctr.org/veterans-program/
Thank you very much for your generous donations and support! There will be collection bins near the Swim Shop.
---
SWAT Sprint Series "Turkey Trot" Heat Sheet
The Saturday, November 2nd SWAT Sprint Series "Turkey Trot" warm-ups start at 3:00pm with the meet starting at 3:30pm.  
Facility Address:
SwimAtlanta - Sugarloaf 
4850 Sugarloaf Pkwy. Suite #702 
Lawrenceville, GA 30044 
---
Athens Fall Classic Meet Updates
ABSC (Meet Host) will be splitting boys and girls up in a slightly different fashion to ensure that neither competition course runs too long.  Senior Girls and 12 & Under Boys will be in Pool A (beside the diving well) while Senior Boys and 12 & Under Girls will be in Pool B (under the observation deck).    
Parking: Parking is available in the Ramsey Center Surface lots and deck and lot E-03 (click here for maps and further information).  Please note on Sunday that part of the course for the Athens Half Marathon goes by the Ramsey Center.  Significant numbers of runners will be passing by the pool during the race, which means access to the pool may be limited on Sunday morning between 8:00 am and 9:15 am.  Cars that are inside the Ramsey Loop by 8:00 am should not have a problem getting in, but those who are late may experience longer delays than normal.
Saturday 12:00-12:35pm
Sunday 8:00-8:35am
Heat Sheets: