SwimAtlanta Kick Off Swim Meet Updates
SwimAtlanta is excited to be hosting the KickOff Swim Meet this Sunday.  We had to make a few changes to the order of events to help with the timelines.  11&older Boys are now Event 1 100 Free, Event 3 100 Breast, Event 15 100 Back, Event 16 100 Fly.  Event 1 & 3 will be swum in the Diving Well End with Event 15 & 16 in the Scoreboard end of the pool. 11&Older girls are now Event 2 100 Free, Event 4 100 Breast, Event 5 100 BackStroke, Event 6 100 Butterfly.  All 11&Older girls events will be swum in the Diving Well end of the pool.  All 12&under events will be swum in the Scoreboard end of the pool.
With these changes we are in need of 12 timers for events 15 & 16 (hour of timing). Go to https://www.signupgenius.com/go/20F084DA8A82EABFA7-timing to sign up and help.
Specators are allowed in the building and are encouarged to wear a mask.
Parking
Heat Sheet
---
How To Enter Swim Meets
Watch the video below to learn how to enter swim meets this season:
---
SwimAtlanta Swim Smarter YouTube Series
Coach Jordan explaining why it is so important to start a new season with  "Drop Pushes" off the wall. "Drop Push" aka "Ready Position" helps you get to your streamlines faster. Plus an added bonus you are working on your open turns.
---
2021 LC Senior State Championship Updates @ UGA
Meet Files
Schedule
Note: In consultation with the Senior Committee, the Meet Host has decided to combine Men and Women into a single Prelim session. Adjusted start times are as follows.
Friday, July 23rd

Session 1 (Prelims)

Warmup:7:00 am -- Start: 8:30 am

Session 2 (Finals) 

Warmup: 5:00 pm -- Start: 6:00 pm
Saturday, July 24th

Session 3 (Prelims) 

Warmup:7:00 am -- Start: 8:30 am

Session 4 (Finals) 

Warmup: 5:00 pm -- Start: 6:00 pm
Sunday, July 25th

Session 5 (Prelims) 

Warmup:7:00 am -- Start: 8:30 am 

Session 9 (Finals) 

Warmup: 4:30 pm -- Start: 5:30 pm​
Logistics
There will be no spectators for this meet. Parents who wish to watch are encouraged to serve as timers. To volunteer, please visit our Signup Genius:

Coaches, swimmers, and officials will enter through the spectator lobby for all sessions (including warm-up on Thursday).

Parking will be in the UGA East Campus Deck. For Friday prelims, visitors may pay to park using the Park Mobile App, or by paying at one of the self-serve kiosks. On Friday after 4:00pm and all day Saturday and Sunday, parking is free. 
 
Live Stream
---
Georgia 2021 14&under LC State Championships and Junior Olympics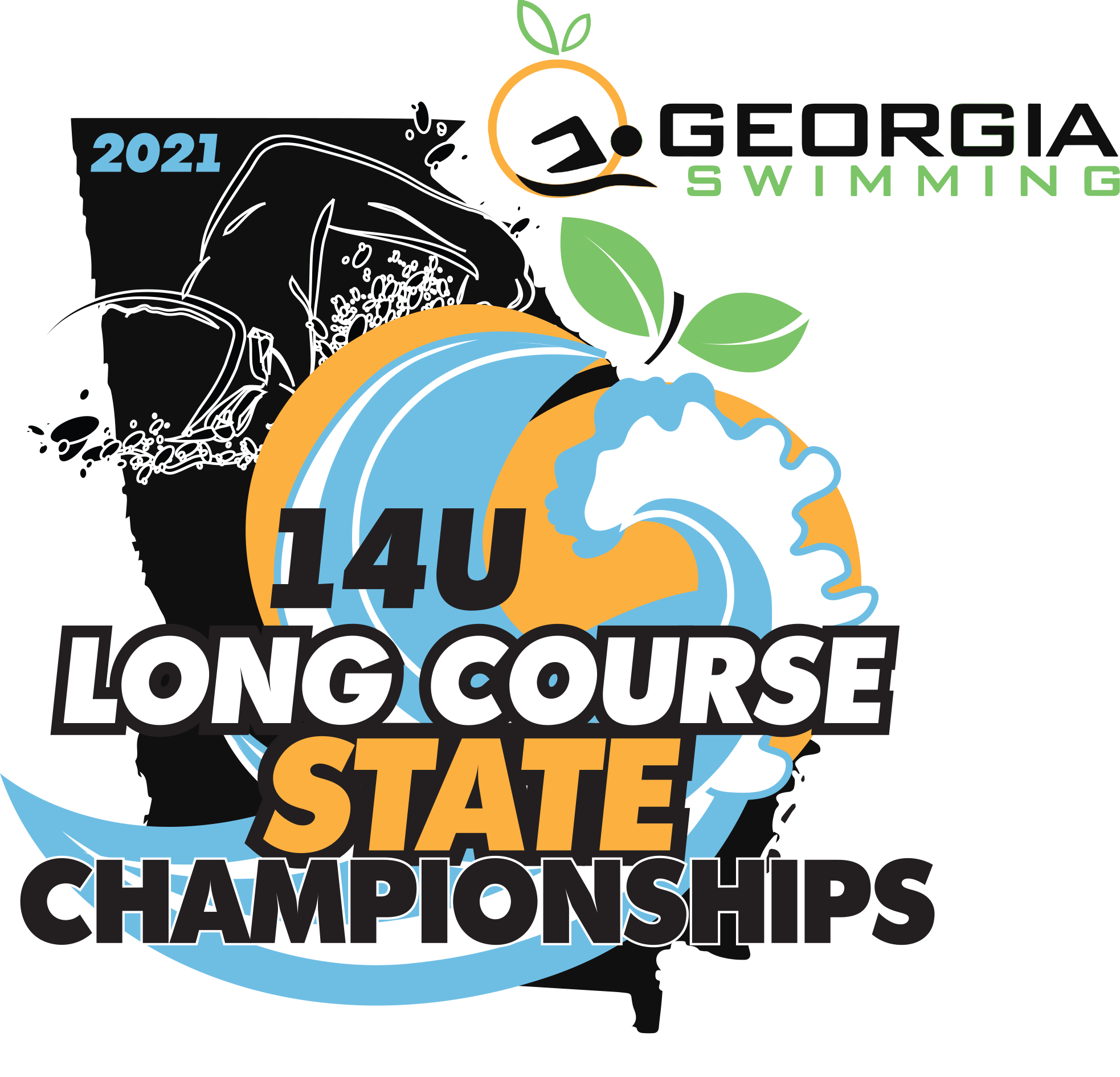 The 2021 Age Group State Champs will be held Thursday July 15 - Sunday July 18 at Georgia Tech. Over 700 athletes from over 50 swim clubs will attend this premier age group competition for our LSC. The meet will feature distance events Thursday afternoon, prelims/finals for 11-14 yr olds Friday - Sunday, and timed final events for 10U Friday-Sunday as well as the first ever long course Junior Olympics Meet held concurrently with the 10U state events! 
In order to meet remaining COVID-19 guidelines at Tech spectators will not be admitted and all volunteer slots have been filled. 
However, the meet will be broadcast on a live feed:  https://youtube.com/playlist?list=PL8oHTcJAE75gaKa6tUn2WoP_rSpYZDqJ0 (SwimAtlanta is not running the LiveStream for this meet)
There will be FREE PARKING for coaches, officials and parents in the deck next to the pool.  However entry will be limited to the time period 45 mins before warm-up starts until just after the meet starts.  
---
14&under Age Group State LiveStream
---
SwimAtlanta Last Chance Meet Updates @ Cumming Aquatic Center
Spectators are welcome in the building.  Parents are asked to stay upstairs in the stands unless volunteering.  Swimmers in the 400 free, 400  IM, and 800 Free are asked to provide their own timer.  Swimmers in the 800 free will need a counter also.
Warm-Up & Start Times:
Saturday warm-up 10:00-10:50am / meet start 11:00am
Sunday warm-up 8:00-8:50am / meet start 9:00am
Timeline & Heat Sheets:
---
Tech Suit & SwimAtlanta Apparel Sale
Everything below is IN STOCK and SHIPS IMMEDIATELY!
Tech Suit Sale:
15% off Mizuno - Discount Code: mizuno15
25% off Speedo - Discount Code: speedo25
30% off TYR - Discount Code: tyr30
SWIM ATLANTA 2021 OLYMPICS T-SHIRT
This awesome new design is in stock and ready to ship out immediately! 
It's printed on an extra soft, premium tri-blend solid Navy NEXT LEVELT-Shirt. Youth and Adult sizes available!
We've printed this shirt in a very limited run. It's available online only, and we will not be making more once they're sold out!